Guardrail Installation in CT
Eagle Fence & Guardrail offers the four major types of vehicular guardrail installation in CT: metal beam rail, timber rail, steel-backed timber rail, and cable guiderail.
Metal Beam Guardrail Installation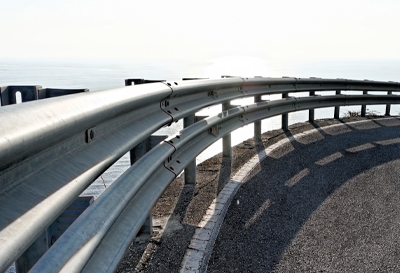 Metal beam Guardrail is perhaps the most recognizable form of traffic safety in use today. It is available in several ConnDOT-approved systems, and comes in both galvanized and weathered-steel finishes. Eagle Fence also installs a complete line of end anchorages, bridge attachments, crash attenuators, and more.
Timber Guardrail Installation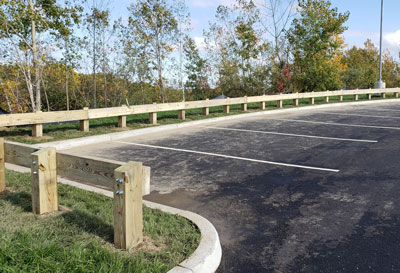 Timber Guardrail installation makes an attractive barrier to prevent cars, trucks, and other vehicles from entering where they shouldn't. Most popular in southern-yellow pine, timber guardrail systems can be constructed in either a mortised or bolt-on system. For non-spec jobs, Eagle Fence keeps 8" x 8" posts and 10" x 10" mortised posts in stock along with 4" x 8" rails. Other post and rail sizes are available by special order.
Steel-Backed Timber Guardrail Installation
Steel-Backed Timber Guardrail is a popular hybrid of systems that offers all the strength of crash-rated products. The most common example of this is "Merritt-Parkway Guardrail." Developed by the CT Department of Transportation for use along the scenic Merritt Parkway, this adaptation is used in many rustic applications.
Cable Guiderail Installation
Cable Guiderail is still in use today. We stock a variety of parts and hardware to install new systems or repair existing cable guiderails.